Booster Volunteer Opportunities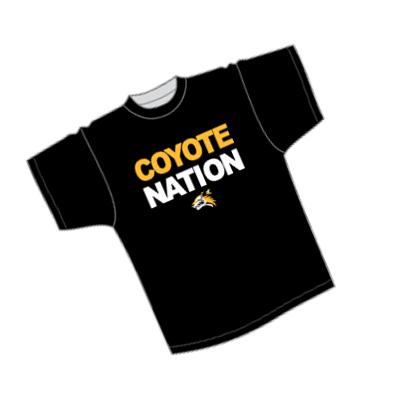 The Booster Club wants EVERYONE to be a part of the Coyote Nation!
HERE'S HOW:
PICK ONE or more volunteer activity during the school year.
Your involvement will…
(1) be a blessing to your child,
(2) raise funds for academics, athletics, and the arts,
(3) foster Coyote school spirit,
(4) promote a "serving" attitude to our students, and
(5) help you to meet new people!
VOLUNTEER HERE!
The Booster Club needs your help. Yep! You get to volunteer! :-) Scroll down and read the list of options.
Then,
Choose from the complete list of events and on-going activities and
sign up here
.
BECOME A FOOD SERVER -- all online!
We'd love to have your help at the Homecoming Tailgate Supper! Maricopa County requires that anyone who serves food must have a valid card or certificate issued by an ANSI-accredited food handler training program. Now -- it's all online!
• A list of the ANSI-accredited programs can be found on the
www.ansica.org
website.
• We've found two low-price courses (and easy to navigate sites) at
StateFoodSafety.com
($8) or
azfoodhandlers.com
($8)
• Take the course and print the certificate at your computer -- in about 90 minutes.
BONUS: If you get your card and volunteer to serve at Homecoming Tailgate, Boosters will reimburse you $8!
This card also certifies you to work in our concession stand at sporting events. Contact Kelly Loberger (KLoberger@ALAcoyotes.org) for concession details.
Maricopa County FAQs
HOMECOMING TAILGATE SUPPER
We'd love your help with set-up, serving (pre-packaged OR hot foods), selling tickets, or helping with clean-up. In fact, we encourage all freshman families ot help with clean-up.
Sign up here
.
CONCESSIONS:
Looking for volunteers for home game Concessions.
"Cold Food" football concessions offers anyone the opportunity to work in the stand. No card needed! Sign up here.
For "Hot Food" food handler certified concession information, please contact Kelly Loberger (KLoberger@ALAcoyotes.org)
We sell tickets at home volleyball, football, and basketball games. For football games, you sell through halftime. For games in the gym, you can sit/stand and watch the game while you sell.
Email our ticket coordinator, Jen Bode at JBode@ALAcoyotes.org if you'd like to be the "ticket coordinator" and help create the online sign-up form -- or with any questions.
TEAM PARENTS
We are looking for a "team parent" to help the coach/teacher with planning home game meals, the season-end banquet, find another parent to find a parent to pick up senior night flowers, organize goody bags for the kids, and other activities, as needed. In addition, the team parent would coordinate year-end coach recognition. Each team parent could formulate a "job description" that best helps the coach. This will not cost you anything--except time!
Sign up here
.
PARKING TEAM:
We are looking for assistance with parking cars at home football games and concerts.
Sign up here
.
GYM TEAM:
We are looking for assistance with technology and set-up at concerts. If you are interested in techie stuff, or if you can move chairs, you are qualified!
Sign up here
and we'll connect with you.
TEACHER APPRECIATION WEEK
In May, we will be honoring our teachers and staff with a special week-long celebration (May 1-5, 2017)! We'll treat them to treats throughout the week, and lunch with gifts/prizes on Friday. Details will come in the Coyote Connection and other parent announcements. Info will come in April 2017.
GALA/AUCTION:
Our 2016 Gala and Auction was a huge success! Email Jen Bode at
JBode@ALAcoyotes.org
to learn more about our March 2017 Gala. Or,
sign up here
.
TREAT-OF-THE-MONTH CLUB:
Bring a treat to the school office or individual treats for the staff members! Email our Treat Coordinator Karie Hicks, at kariehicks@gmail.com, with questions. Or,
sign up here
.
VOLUNTEER HERE!
The Booster Club needs you!
Sign up here
to choose from the complete list of events and on-going activities.